New York Comic-Con 2023 Recap
I've returned from a fun but exhausting weekend, but I wouldn't have it any other way. Ever since 2010, October in New York has been synonymous with the pop-culture phenomenon of the season with ReedPop's New York Comic Con at the Jacob Javits Convention Center. In that same year (and just about every year since) ReedPop has also been gracious enough to provide us with press access to their events, covering all things Adult Swim, Anime and more.
It would be a boldfaced lie if I said this year was no different… however, with both the SAG-AFTRA and WGA strikes at the forefront of the event (the latter still in progress) there were little expectations as to what exactly would be occurring this year. SAG specifically forbade any actors attending to comment specifically about any past or future works, leaving actors to answer the simplest of questions from fans.
That being said, it was only a few short weeks ago that we got a (sort of) answer in regard to Adult Swim programming via ReedPop's Panel Registration page popped up inconspicuously, only stating the subtitle: "A First Look at New and Returning Series" and teasers of what to expect (although missing from the lineup was anime, Uzumaki – which some have speculated is nowhere near ready to be shown).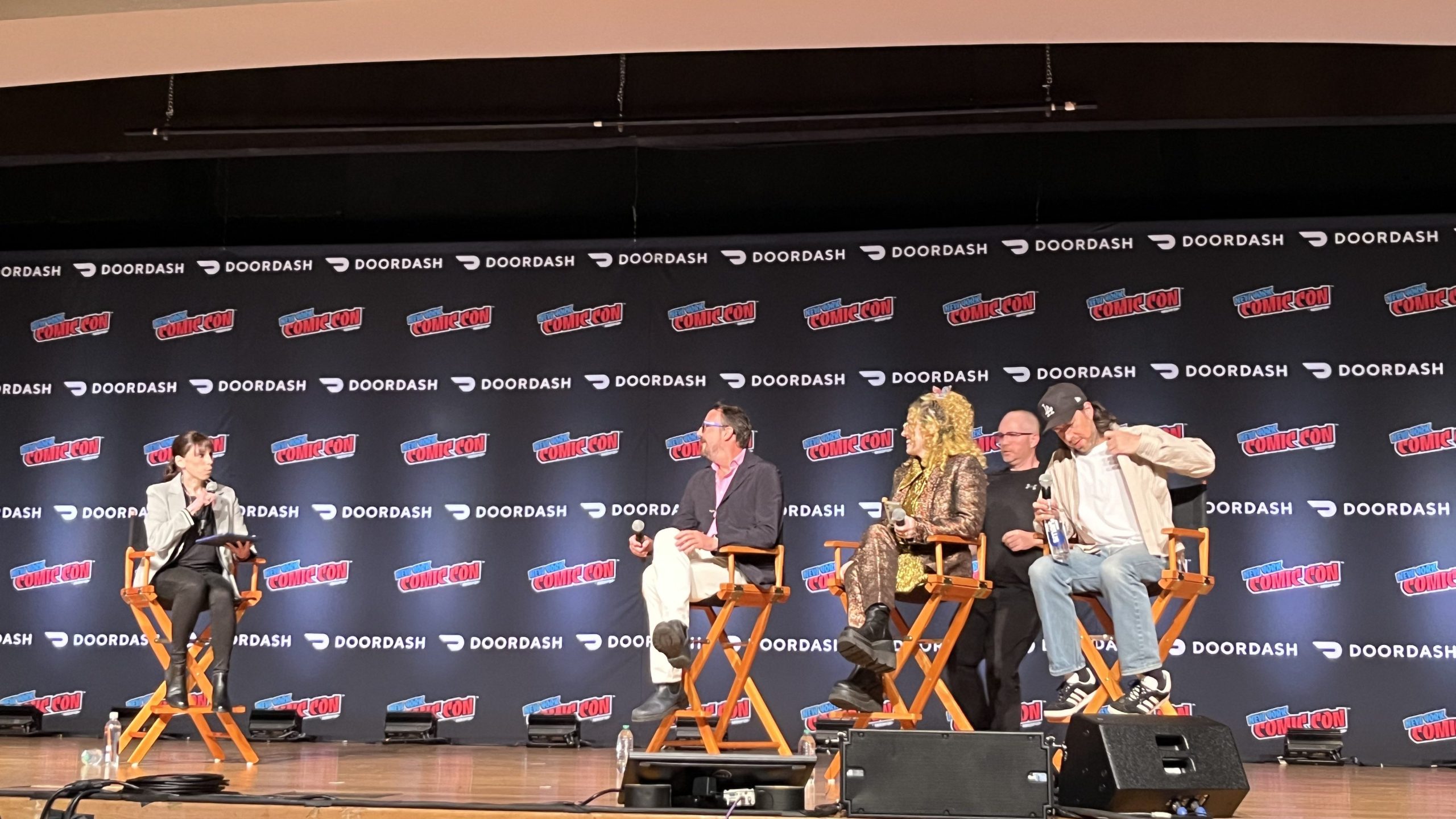 What we got was a pretty standard "What's We're Cooking Up At Adult Swim" panel, featuring President Michael Ouweleen, Director of Comedy Development Missy Laney, and VP of Comedy Development Cameron Tang, and moderated by Perri Nemiroff of Collider (whose expertise appears to be in horror films – not as a knock on her, but some questions came off a bit generic and borderline cringey – yet she powered through the interview portion). That being said, here are some of the highlights to the panel itself:

Opening Comments: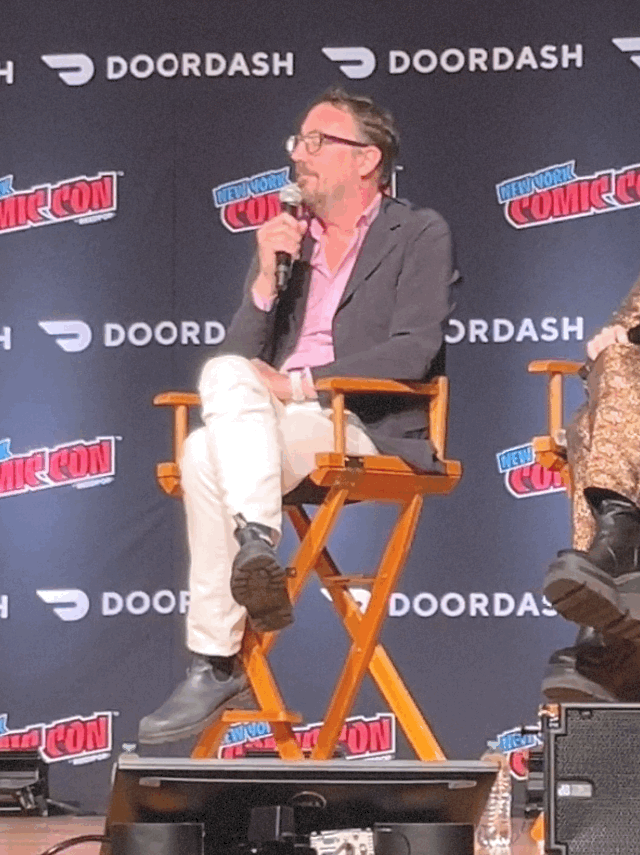 (Our "Formerly Known As Twitter" was somehow set to GIF mode when we started posting. Still looks cool, though.)
Mike O was asked about action vs comedy and stated that it wasn't just about the comedy shows anymore, giving Primal as one of the main examples.
Missy discussed live-action and how you can have shows on different sides of the spectrum such as a Joe Pera or an Eric Andre.
Cam mentioned the pitch for Joe Pera was "punk rock anti-business but also so funny."
Cam also mentioned having piloted a show over a tweet before (the show was not mentioned however).
Perri asked Mike how he goes about passing on a show, to which he quipped "I make these guys do it."
Women Wearing Shoulder Pads (Coming in 2024):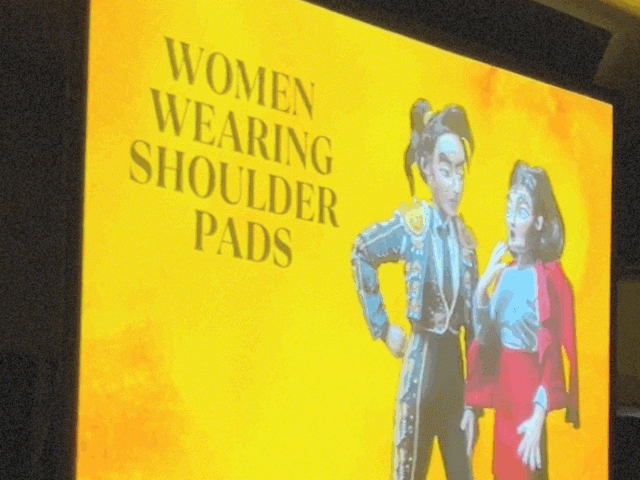 Missy took point on introducing this show, Adult Swim's first ever Spanish Language Program.
Stated "I want this to be the first Adult Swim show to go Criterion."
Apparently, the show was originally pitched as being made with marionettes (which would explain the main character's name).
More on WWSP on our Official ASPR Announcement Post
Smiling Friends Season Two (Coming in 2024):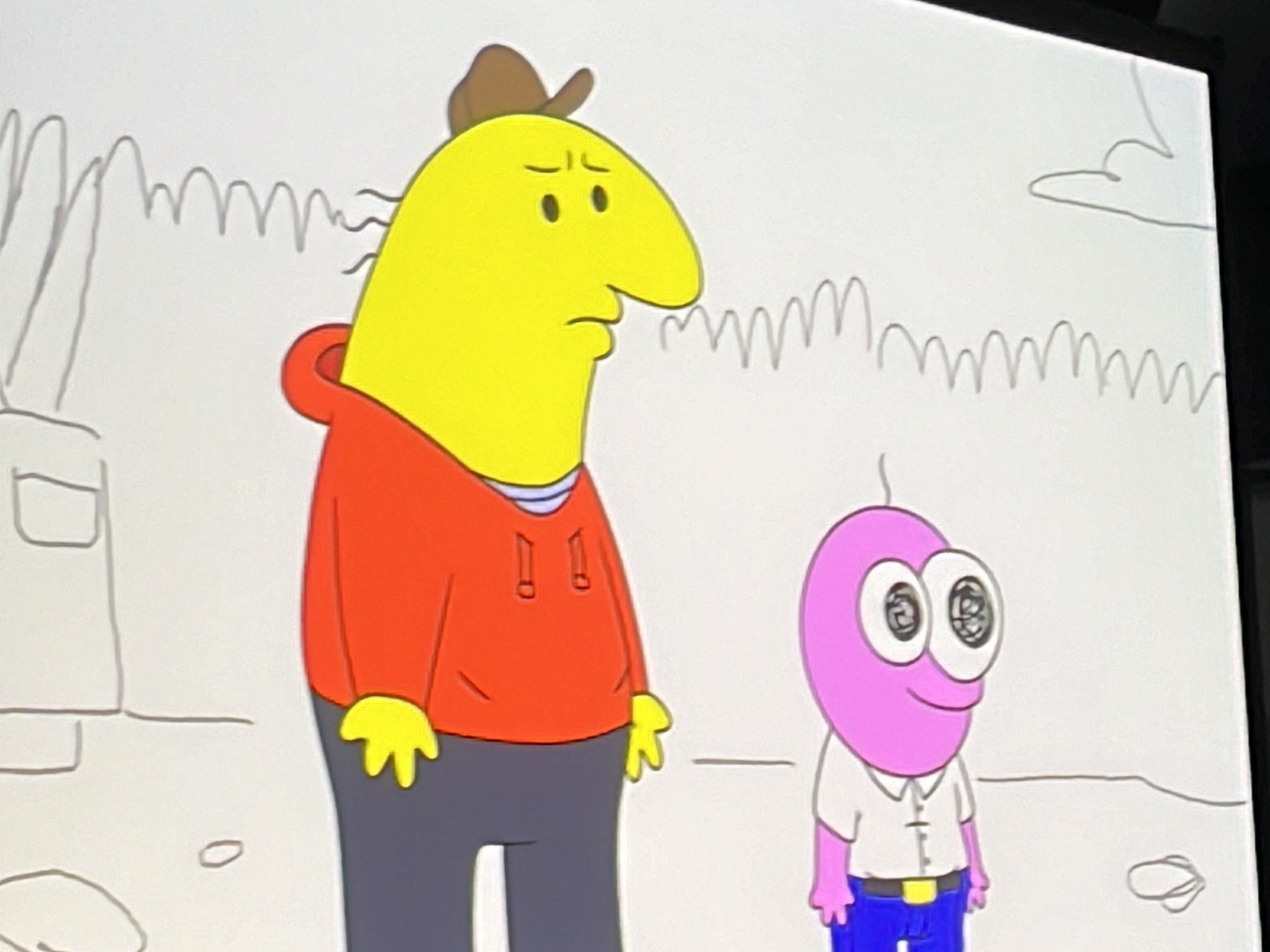 Cam discussed suggesting to creators B about using S2 to develop and focus more of the lesser characters such as Glep, Mr Boss, and Mr. Frog (hello!)
We're shown an animatic from an episode – Pim takes Charlie to visit his "UFO Hunting Group" on the premise that Charlie suggested he was interested – he never did.
One of the characters is quick to correct Charlie and call them "UAPs."
New character Fillmore is crazy-go-nuts.
Very colorful vomit from one of the other characters.
The characters unveil an "experimental alien beacon device" which ends up being a theremin. Charlie uses it to summon an actual UFO.
Yolo: Rainbow Trinity (Coming "Soon"):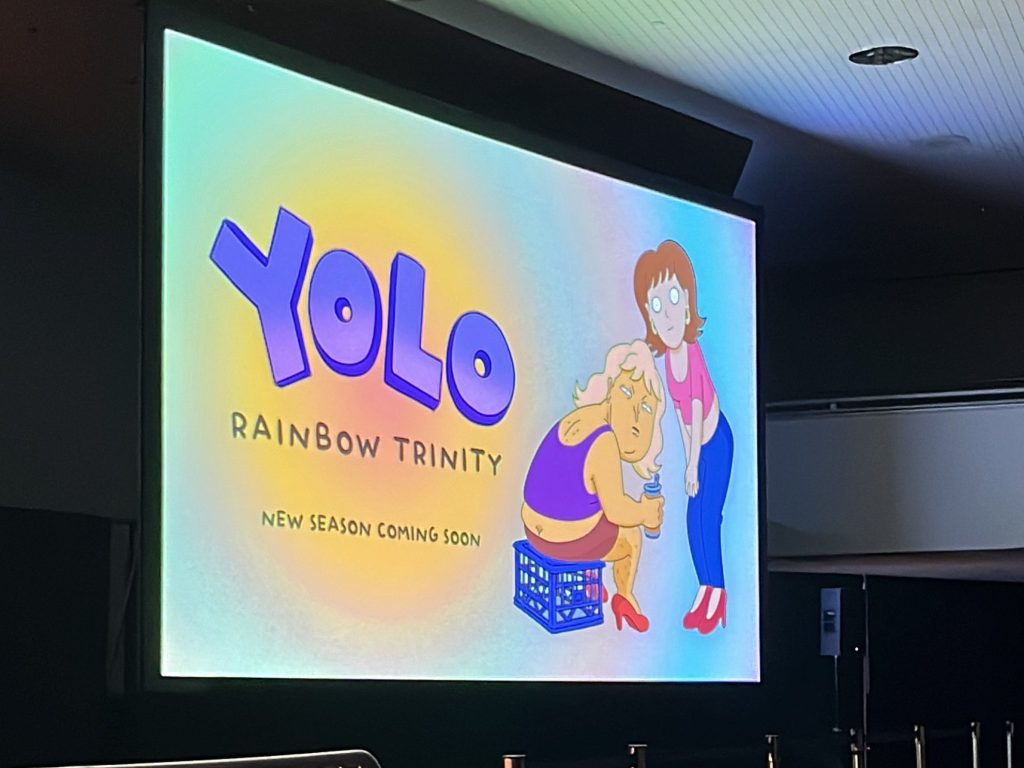 The Return of Aqua Teen Hunger Force (Coming "Soon… this Year Soon")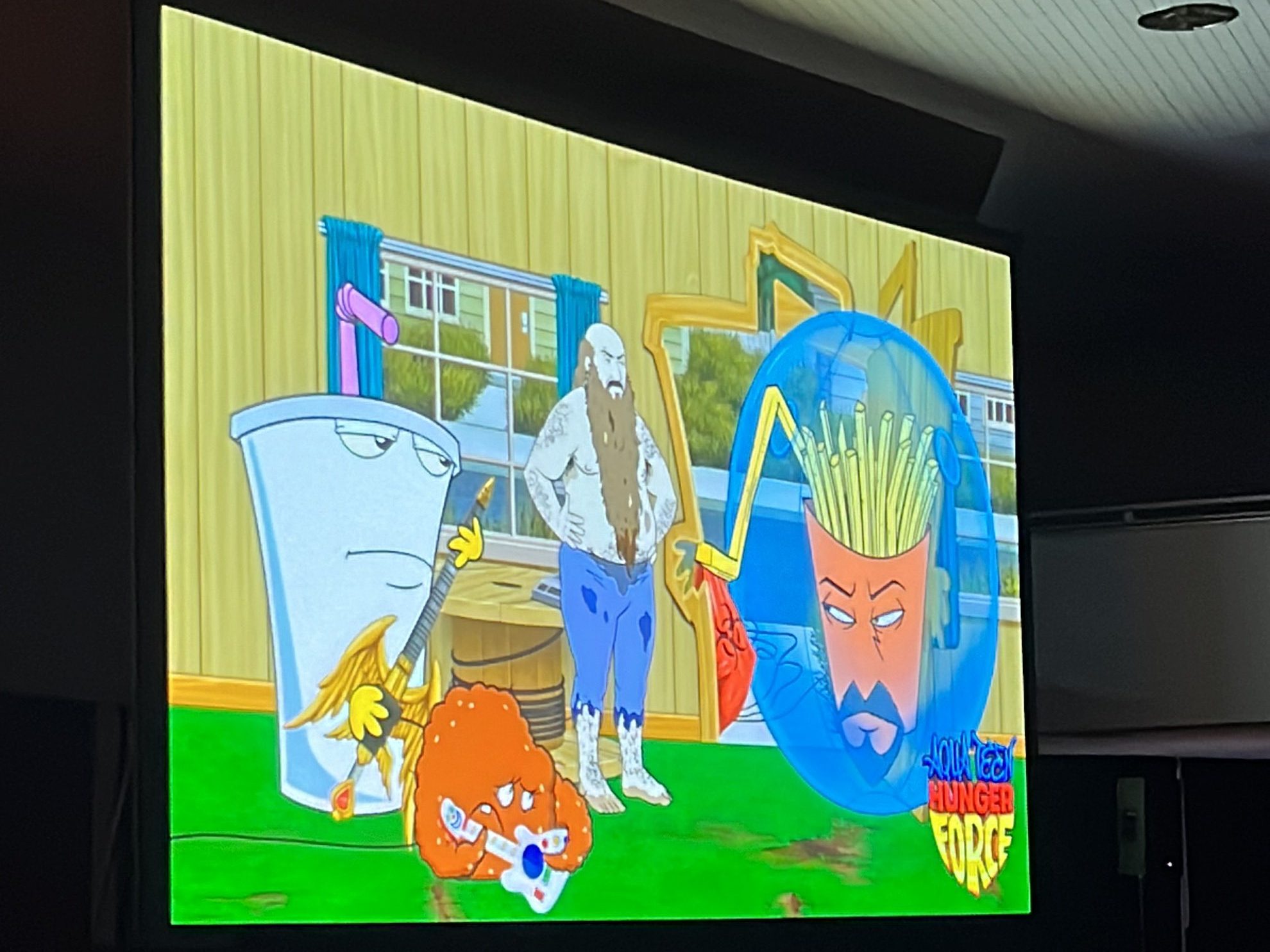 Perri: "Why specifically Five episodes?" Mike: "Five is the new Full Season"
Mike (in seriousness) talked about how they were all in town last year for the Aqua Teen Plantasm screening and Matt Maiellaro and Dave Willis wanted to do more (as it's fairly well-known, former Adult Swim VP Mike Lazzo unceremoniously pulled the plug on the show, with little warning to the guys).
Mike agreed and was able to put together a 5-episode run based on the success of the new movie, as kind of a "Let's see."
Mike: Show has been evolved for 2023
Perri (to Missy and Cam – and later Mike): Which character was your fav and has that changed… 😒
Perri segways to Checkered Past – Mike goes into the history of Ted Turner buying the Hanna-Barbera library, spawning CN, AS, and their respective shows, mainly What a Cartoon, Billy and Mandy, etc. Mike and Kim Manning planned to reair the classics for CN's 30th which garnered great ratings, so they decided on the block, someone else came up with the name and they found the classic "SKULL" from the end of the classic AS shows, and it all came together.
ATHF Clip opens with different animation and Shake narrating about a new world… Behold, Shaketopia!
Shake (as a greek emperor-type on a throne) is surrounded by little gummy bear type creatures (they kinda remind me of the Storage Zeebles or the bees from Sweet C) barking orders one fetches him a VR helmet for him to play "Fantastisploosh" a game where you have to create rectangles out of squares – the game is definitely a parody of Candy Crush, voiceover and all.
Scene glitches out to reveal… Shake on the recliner in a robe looking emaciated and drooling. Frylock reveals Shake has been "in" for over 2 months. Meatwad tries to draw a dick on him.
Back to the game (and the game game) one of the creatures points out the obvious about the game consisting of squares being converted into rectangles… Shake zaps her into ashes.
Perri asks how Mike determined the animation for "Shaketopia" …😒 (Note: Aqua Teen's upcoming season is being animated by Floyd County Productions). Mike answers diplomatically on how the video game scene "informs the animation."
Perri expands on the previous question about expectations on "other animation styles" in the 5 episodes…😒 (see previous note). Mike jokingly says the budget wasn't that big but that the "style" is much richer than the original series. He also promised that AI was not involved.
Guest Stars including voice over royalty Maurice LaMarche, Gary Anthony Williams and Eric Bauza as well as Dan Folger, and Brian Cox (Succession). (As previously noted, Ronnie from Aqua Teen Pod will also be a voice in an episode).
Mike: "It will be out soon… this year soon…" (It was rumored for a November release previously).
Rick and Morty Season 7 (Out Now):
You've seen the clip and the episode by now. No sense rehashing it.
Perri: Why kick off with Mr. Poopybutthole. Mike: We were concerned about him.
Mike says the R&M intro is similar to the new ATHF one where things may/may not happen in episodes.
Canon in episodes.
S7 whole new characters and new worlds. "Servicing the characters."
"And there's a great episode about spaghetti."
Perri asks Mike the burning question as to the voice replacements and why they've been kept secret. Mike responded, "It's about the show… getting the show out is the point." and that you'll find out during the credits (if you've seen the episode or either Variety or Hollywood Reporter's articles, you'll know by now… more on that at another time).
Fan Q&A:
Obviously, showcasing the more coherent ones… most of which are essentially a wish list to Santa Mike:
One fan asked for them to consider a Frisky Dingo Season Three, to which Mike responded, "I don't think the guys want to." (There's a bit of rumor, innuendo and a tiny bit of fact as to how/when/why Dingo got axed – won't get into it here).
Another fan asked about Sym-Bionic Titan. Mike responded: "Never say never… but that was a Cartoon Network show."
A third fan asked if we'd be getting a Ballmasterz 8008 S3. Mike: "Not in the works but we love working with the same creators." This bodes well for Christy Karacas who is an amazing talent.
Fan asks why they've never thought of bringing previous HBO max exclusive Close Enough to the network? Mike's answer is interesting (but expected) since there's a lot of red tape in acquiring content from different avenues, even from an "exclusive."
Fan asks if they're trying to go more General Audience/Young Adult shows… Mike says they have a lot of daytime hours now so both will exist.
Next fan: More Xavier: Renegade Angel? Mike: "No plans…" but suggests they always could.
FYI: Mike O co-created Harvey Birdman: Attorney at Law, so he's definitely in the "Let's bring back the classics" camp. A lot of these asks may seem crazy, but not completely out of the realm of possibility…
…speaking of, there was also a Titmouse panel that brought up Venture Bros… yeah, we're not touching that one. Jackson Publick already debunked it… anyway, here are some Venture Bros cosplay pics: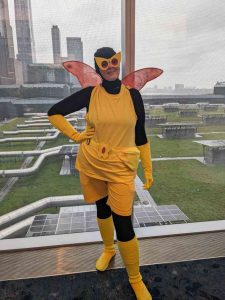 So that's EVERYTHING and more Adult Swim that happened at NYCC this weekend. I'll be writing more coverage from the convention over at the mothership pretty soon. In the meantime, stay tuned for more news as we get it. Also here are a couple more pics: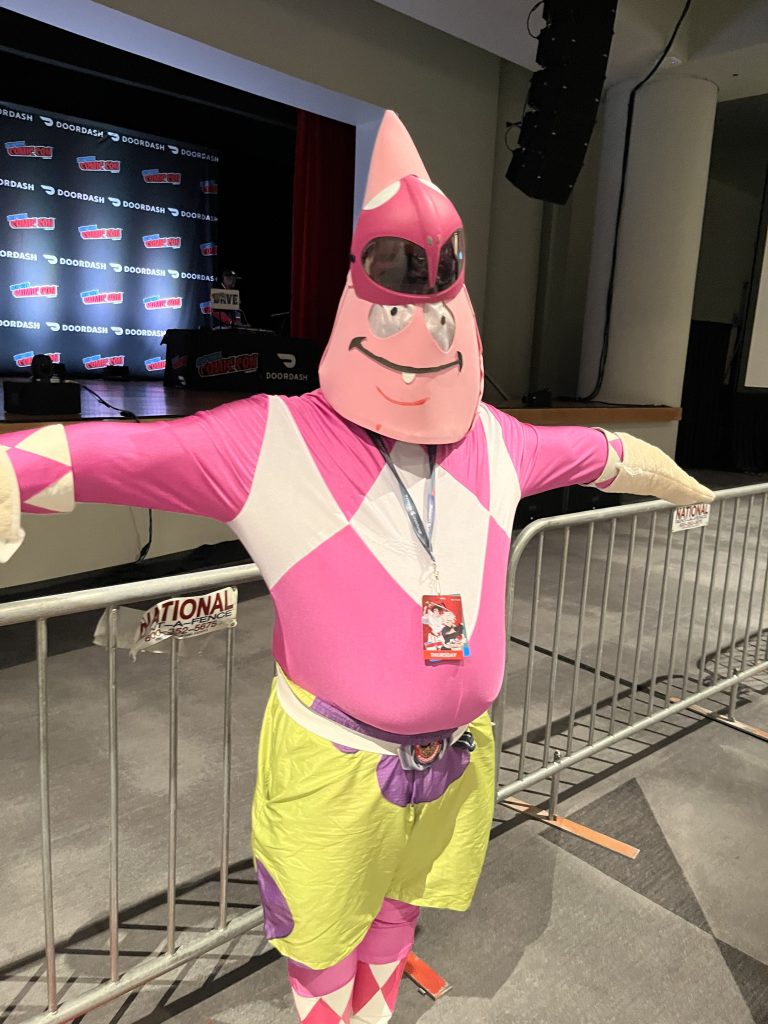 About Author