Adult Swim @ NYCC 23 – First Looks at ATHF, Smiling Friends and Uzumaki
Lately, not a whole lot has been broadcast regarding Adult Swim's future plans. With the WGA potentially making a deal with the AMPTP (and a sign that it may lead to SAG-AFTRA following suit), things are in a bit of flux and may come to fruition sooner than later. Until then, AS has announced (tentative?) plans to screen First Looks at the upcoming season Aqua Teen Hunger Force, new Toonami series Uzumaki, and the well-awaited season two of Smiling Friends. In addition, footage from the upcoming season seven of Rick & Morty will be screened. This panel is on Thursday, 10/12 at 5:45pm, and requires first come, first served registration… therefore if you plan on attending, you may want to do so like yesterday.

In addition to the standard as well as the usual Toonami-type panels, Titmouse Inc. (f/ Chris Prynoski & Co.) will be having a panel on Saturday, 10/14 @ 1:30pm, talking all things animation – no registration needed, just your NYCC badge.

Check back for any potential updates to AS @ NYCC.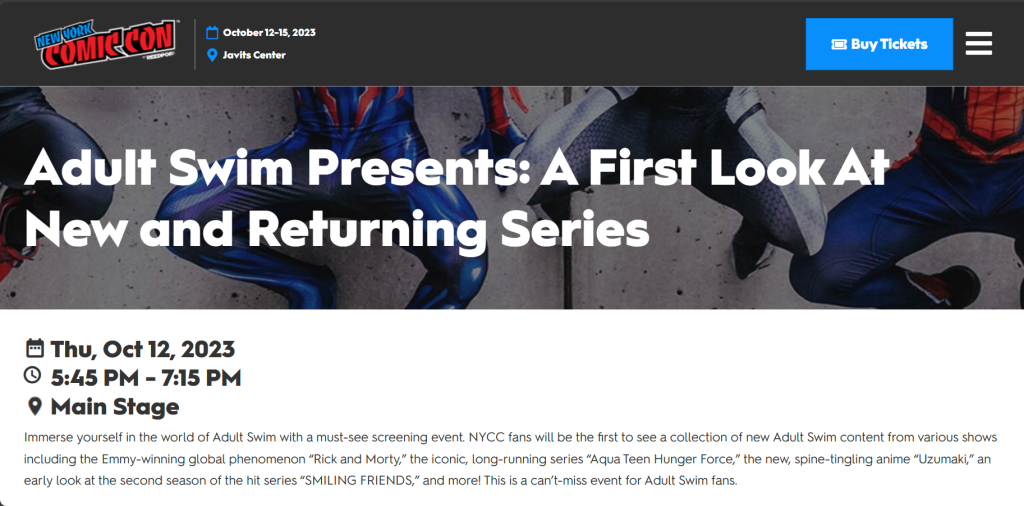 About Author