Rick and Morty Get Season 7 Premiere Date!
Adult Swim has announced a premiere date for the eagerly awaited seventh season of it's highly acclaimed animated sci-fi comedy Rick and Morty! Last week we were blessed with a teaser for the upcoming season, set to the song "Bullet with Butterfly Wings" by The Smashing Pumpkins, which featured Rick C137's journey in past seasons to his current, apparent, story arc. Finding the Rick who killed his original dimension's version of Diane and Beth.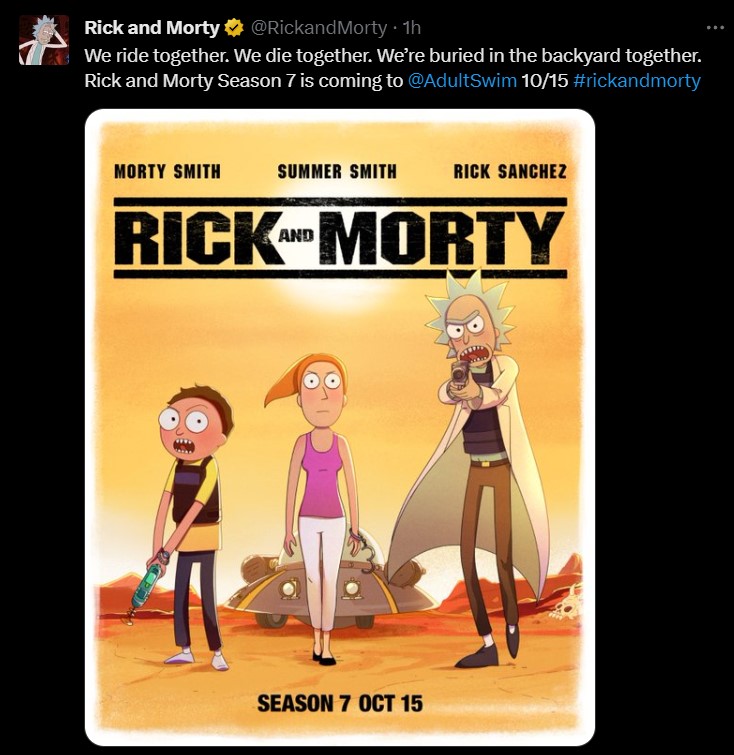 Rick and Morty's official twitter account posted the above tweet announcing that new episodes will begin airing October 15th.
Despite the air date for the first episode being mere weeks away, we've yet to hear casting news for the show's titular characters. Rick and Morty had to be recast this season after Adult Swim cut ties with the duo's former actor, and show co-creator, Justin Roiland due to allegations of sexual harrasment and domestic abuse.
The show's production team has stated that they will be going with someone who can imitate Roiland's original voices as opposed to going with completely different, as was done with Roiland's character on his Hulu show Solar Opposites.
We may just have to wait and see what happens when the first episode airs. The seventh season of Rick and Morty is set to premiere Sunday, October 15th at 11PM on Adult Swim. In the meantime fans can rewatch and catch up on the cartoon via Hulu and Max. Check out the full press release below…
ADULT SWIM SETS GLOBAL PREMIERE DATE FOR SEASON SEVEN OF EMMY-WINNING ANIMATED COMEDY "RICK AND MORTY"
Adult Swim announced today that new episodes of "Rick and Morty," the hit adult animated series that follows a sociopathic genius scientist who drags his inherently timid grandson on insanely dangerous adventures across the universe, will premiere around the world and across the multiverse starting on Sunday, Oct. 15 at 11:00 p.m. ET/PT on Adult Swim.

A global phenomenon, the seventh season of "Rick and Morty" will debut in over 134 countries in 38 languages. In the U.S., new episodes will be available for purchase from digital retailers the day after they premiere on Adult Swim. The new season will also be available to stream in 2024.

"Rick and Morty" was the #1 comedy across all of cable during seasons three, four, five and six, and has become a multi-platform sensation not just on television, but across digital, gaming, livestreaming, retail, and fan experiences. The series reached over 19M viewers on linear broadcast in 2022 and remains a top series on Max. "Rick and Morty" has garnered two Emmys for "Outstanding Animated Program" and is currently nominated for a third.

"It's happening," confirmed Michael Ouweleen, president of Adult Swim. "Thanks to the talent of the entire show team, we can all enjoy 10 new episodes that yet again raise the bar for comedy and animation. This season proves that the geniuses at work on 'Rick and Morty' are just getting started."

Rick and Morty are back and sounding more like themselves than ever! It's season seven, and the possibilities are endless: what's up with Jerry? EVIL Summer?! And will they ever go back to the high school?! Maybe not! But let's find out! There's probably less piss than last season. "Rick and Morty," 100 years! Or at least until season 10!
About Author